A successfully completed recipe! There was a huge cabbage head in the fridge and I thought, geez, what could I make with this thing? I usually chop it up and add it to sauces or vegetable stir fries but I was sure there was something tastier that could be done with it. The first recipe that turned up when I searched "easy cabbage recipe" was stuffed cabbage rolls!
I initially did a rice version which taught me to make some really delicious rice stuffing that I think I will use as a base for quick and yummy meals (can't seem to find the link, basically you saute a chopped medium onion, until translucent in butter and add your cooked rice to it). It was great with the cabbage as well and reminded me a lot of a Croatian recipe which is pretty much the same except you stuff green bell peppers instead of cabbage and there's meat. I had quite a few cabbage leaves leftover to make more (blanching the whole cabbage was so much work) so I looked for another version of the recipe.
This led me to
Rolls a la Aunt Angela
, it was really easy and the end result was amazing! I put less of the liquid ingredients as I had less meat and didn't use any onions in my casserole. I still have a lot of catching up to do when it comes to presentation, but I can assure you, it was sublime.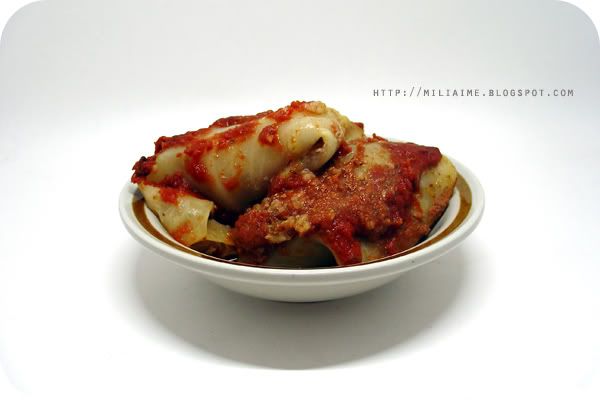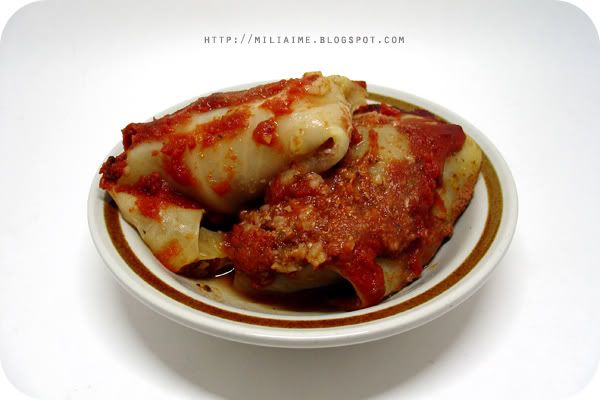 On another note, I made some muffins (from an organic apple and cinnamon muffin mix) and for fun I decided to try out a heart shaped cupcake/muffin mold I recently bought. How incredibly cute! Can't wait to make more yummy cuties with them.